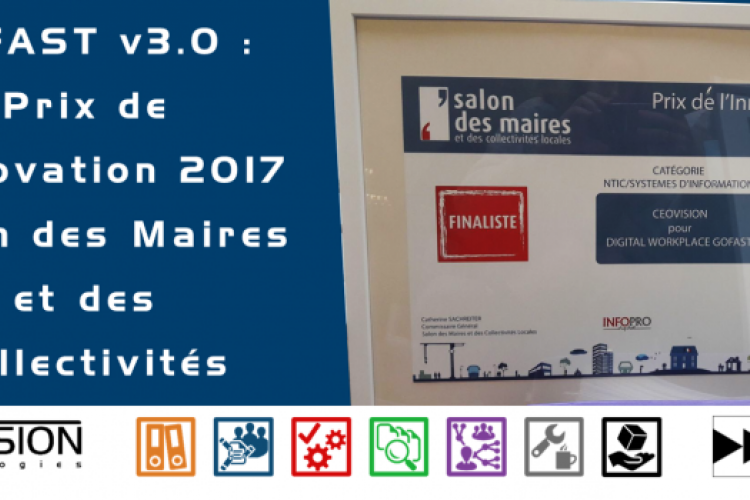 Archamps - October 26th 2017
CEO-Vision's GoFAST 3.0 collaborative solution ranks 2nd at the 2017 "Mayors and Local Gouvernement " Innovation Award!
GoFAST 3.0 is the culmination of more than 2500 man days of research and development to offer the best "Digital Workplace" and a European Open Source alternative to Office365 / Sharepoint / Skype and enable to improve productivity.
With its solution, CEO-Vision SAS competed in the category of ICT / Information Systems, against more than 30 other innovative companies.
This award shows the growing interest of public services and administrations in horizontal solutions and the optimization of collaborative work and content management.
As a French software vendor , we are honored to receive the "Diploma of Innovation" in this strong place of history that is the French Senate.
FOLLOW UP CEO-VISION FOR A "LIVE" DEMONSTRATION OF THE COLLABORATIVE "DIGITAL WORKPLACE" GOFAST.
The best of Open Source (including Alfresco) was combined into a unique product, Alternative OnPremise and secure at Office 365 / Sharepoint, GoFAST revolutionizes the collaborative work: real DMS (Document Management System), Collaborative Office Suite, Workflow, Videoconference, Chat, Powerful Search Engine, Extranet Space, Forum, Mobile version.
 
November 2017 21, 22 et 23 Porte de Versailles - Paris
INNOVATION AWARDS WINNERS OF THE 2017 MAYORS AND LOCAL AUTHORITIES SHOW
The Salon des Maires Innovation Awards awarded innovative products, processes, materials, systems, services or techniques. Developed by suppliers of goods and services in the local government sector, these innovations provide concrete solutions to current issues facing local decision-makers.
The jury, chaired by Valérie Létard, Senator of the North and Vice-President of the Senate, and composed of professionals from the world of local communities (elected officials, territorial directors, journalists) distinguished the following finalists and award winners: download the list.
How to find winners and finalists at the show:
In the corridors of the exhibition, the stands of the winners - exhibitors willbe easily identifiable thanks to their imprint carpet! Can you find them all?

Find the complete list in the visit plan.The stands of the Winners and Finalists will be colored so you can identify them rather quickly.

Find the interviews of the winning exhibitors in the "Qutodien du Salon des Maires" which is distributed to you at the entrance of the exhibition.>> Visit the exhibition website