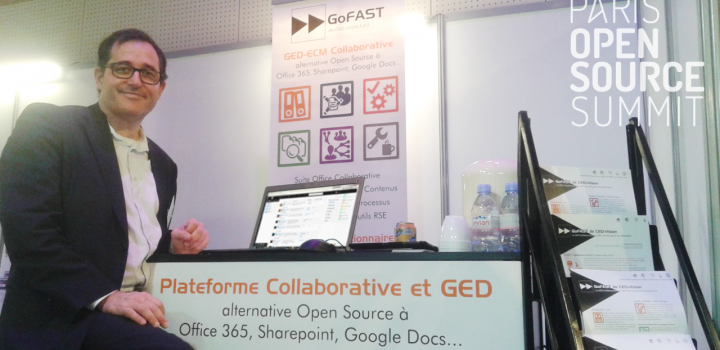 Paris - November 18, 2016
This second Paris Open Source Summit edition is a real success for CEO-Vision and the new major version of its collaborative platform GoFAST.
On 16 and 17 November 2016, CEO-Vision took the opportunity of this exhibition, entirely devoted to Open Source technologies, to officially launch GoFAST 3.0: The best Open Source and Onpremise alternative to SharePoint, Office 365, EMC Documentum or Google Docs.
A successful launch :
Strong interest and strong curiosity from visitors of the exhibition for this technological revolution. Dozens of demonstrations of GoFAST were carried out over these two days and all succeed in convincing about the quality of the solution.
The platform's functionalities make it possible to answer many issues in content management and process dematerialization.
Visitors particularly appreciated the strong collaborative dimension associated with Alfresco-based DMS, including the new Office Collaborative Real-Time Suite, compatible with MS-Office (running in a standard browser) and the Webconferencing solution competing with Skype for Business.
The new WEB and Mobile user experience  was a success among end-users as well as CIOs. This is the result of always taking in account user feedback in the GoFAST roadmap.
Christopher Potter, President-Founder of CEO-Vision (left) and Bart Cornille, Digital Transformation Manager at the BTCCTB (right).
The edition 2016 of the Paris Open Source Summit has undoubtedly given great visibility to GoFast 3.0, enabling meetings and talks that will soon lead to new real GoFAST projects.
>> More information about GoFAST 3.0
>> Interview Christopher Potter by the OpinionTV